How to Keep the Hot Sun from Harming Your Plants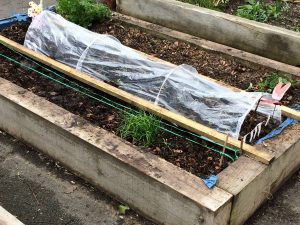 Sometimes you need to find a balance between sun and shade, depending on the conditions in your backyard, as well as the crops that you are growing. However, even if you have plants that require full sun, they may be getting too much light, particularly in the summer months when the weather is very hot. This harmful light can bleach out leaves, and disrupt the growing process, even in plants that supposedly thrive in very hot weather. Thankfully, there are some things that you can do to prevent this from occurring.

1) Know what to look for.

White leaves that look like all of the color has been bleached out of them is the most obvious sign that your plants are being harmed. By the time that you see this, it may be too late. The sun can harm the inner structures of the leaves in ways that are undetectable to the naked eye. You may end up with stunted growth, fewer vegetables than normal, or even plants that do not grow at all. Unfortunately, there is no true way of knowing that your crops have been harmed until the bleached or discolored leaves pop up. Once they do, be sure to spring into action.

2) Cover your plants with a sunshade or other material.

There are special sunshades that you can purchase to cover your plants, and as long as they are made of organic materials, they will work nicely. You do need to steer clear of plastic and other man-made materials, as they can actually keep the heat in, causing additional damage to your plants. (This is why plastic makes a good winter cover.) If you don't feel like purchasing a sunshade, you can use burlap or bolts of cotton that can be loosely wrapped around each plant. These will allow air in, while keeping most of the heat out. Just be sure to remove them as soon as the weather cools down.

3) Keep the soil moist.

Water is incredibly important, even more so when the weather is hot. Check your soil daily to make sure that your plants have enough moisture. If it gets too dry, the damage caused by the sun's heat will get even worse. You also need to be careful about the time of day that you water them. If water ends up on the leaves during the hottest part of the day (usually mid-afternoon) their "sunburns" will get even worse. This is why it is recommended that you water your plants either in the early morning hours, or in the evening once the sun has begun to set.

4) Use mulch.

Place mulch around the base of your plants. This will protect the root systems and keep moisture in. The mulch will also absorb some of the heat from the sun, preventing it from harming the stems and roots. Without this mulch, the soil will get very warm and the roots might begin to "cook," further harming the plant from the inside out. You don't want to place too much mulch on the ground however, a layer that is around two inches thick will work nicely.