Today, let's talk essentials, but with a twist. We'll talk about sleep and the choice of a best portable bed (air mattress or a sleeping pad) should you ever need one.The word, essentials has been used and rehashed in the preparedness community that the very meaning in vague for most people, so let us take a step back and ask ourselves, "What are the basic human needs?"
Water. Food. Sleep.
Right?
And while the topics of the clean water and water filtration systems and food, energy bars, our minimum needs are a subject of every 4th or 5th article that pops up in the community, try and think back to the last time you read an actionable article about sleep.
Chances are – you can't…sleep is the one most commonly misunderstood basic human needs. The misconceptions about it have transferred from our everyday lives to the way we think about preparedness.
It all started the very first time we thought to ourselves, "I have to finish these reports but I'll make up for the lost sleep at the weekend."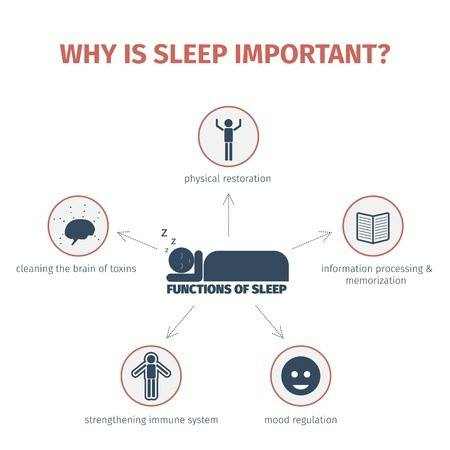 The making up for the lost sleep at the weekend thing – IT'S A MYTH AND IT DOESN'T WORK. It's been proven in studies for some time now that only one night of lost (or bad) sleep interferes with how our body functions.
And while those reports being late might not be such a big deal – what if you vigilance and responsiveness are affected when the time comes to defend what you love the most?
So, with that said, let us move on to the meat of this guide – proper planning of our sleeping arrangements or, to be more precise, choosing the best air mattresses for our shelters and sleeping pads for our BOBs.
Choosing an air mattress for our shelters
Whether you have an off-the-grid shelter or disaster strikes at home, the importance of owning a versatile secondary bed (s) cannot be over-stressed. There are a number of scenarios that will put them to good use.
Bear in mind that the kind of air mattresses we're talking about here are only really an option for your shelter or as a backup bed to have in your home, not for your backpack. They are way too bulky and heavy.
Still, to get the most out of it, you have to know what you're doing when choosing – so let's make sure that you do.
Today, we'll be talking about the INs and OUTs of choosing a good air mattress.
Materials of top airbeds
Most of airbeds are made of PVC, with some plasticizers added to increase durability and comfort – we want only the most durable and reliable air mattresses for our shelters.
There are thousands of them out there and it can be confusing, so let us cut through the clutter and get very specific about what to looks for.
Increased durability and low puncture resistance
Look for thicker PVC for increased durability. Go for anything close to 0.6 mm thick. Most of the airbeds will feature PVC that's around 0.4 mm thick, there are only a handful that are extra thick…and don't worry about not finding the information, those companies that make the extra-durable blow-up mattresses go out of their way to stress in the fact sheet.
Always take a special note of the weight of these babies because 50% added thickness will usually mean 50% added weight, so think about how that applies to your plans. It's a good fit if it's standing on the shelf in your shelter, but it's not an option if you plan to bug out with your essentials in your backpack.
Safety and fumes
If you've ever owned an airbed, you know the issue of the rubbery smell lingering for days. It doesn't feel great and there's always that underlying feeling that it can't be healthy.
In reality, safety concerns of an airbed are a thing of the past and the chemicals used in the manufacturing are a thing of the past. In fact, a study of off-gassing (fumes) as reported by users has shown that, in the long run, the issues of fumes and smells with airbeds is lower than any other type of mattresses (see graph below).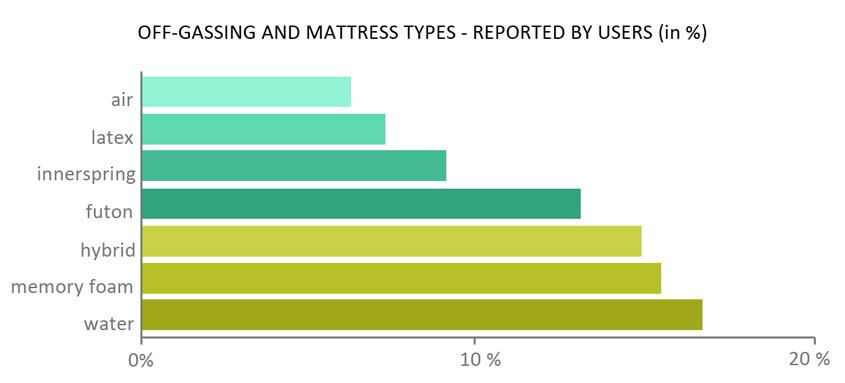 Make sure that you inflate/deflate the air mattress a couple of times and leaving it out of that bag for a day or two before storing it on that shelf.
This will allow you to notice any flaws with the product as well as air it out and get rid of the plasticky smell.
If you still have concerns, you can always go with an air mattress that's completely PVC-free and entirely textile-made. These are even more durable and less prone to punctures but there aren't many of them and it might be a challenge to find one that would suit our other needs (like power-independent pump).
Power sources and the pump
Power outages are one of the first things that our minds go to when we think about calamity and it should, chances are high they'll happen.
So the last thing that we want is to be stuck with a piece of plastic in a bag that requires electricity to be inflated, so…
Choose an air mattress that can be battery and manually-operated…
We are looking at an air mattress here with our prepper glasses on and the ones that you would do choose as a guest bed for when you have friends over will not do the trick.
We want a product that's self-sufficient and that will serve its purpose even if the power is out. This spells battery or manually operated (preferably both).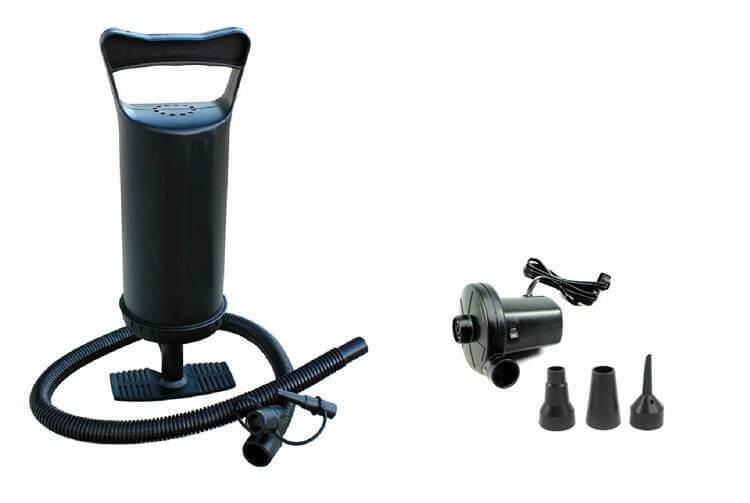 Lucky for us, there are airbeds out there that are designed for prolonged camping trips and these beds check all the boxes of our needs, too.
Making sure it fits the bill:
Inflate/deflate the bed using the batteries or the manually/leg pump (usually comes separate)
Make sure that the nozzles that come with the pump fit and can be used with your new air mattress
Again, leave it out and inflate/deflate it a couple of times before storing to make sure it all works properly
Comfortable air mattress – what to look for
You might think that being comfortable is only secondary in a survival situation but let's go a step back and remind ourselves of the importance of PROPER sleep.
Proper sleep doesn't mean just getting the few hours – it means getting enough of all the sleep phases. That's where the comfort comes in.
It might not be a big deal for a night or two, but should you find yourself sleeping on your secondary bed for months, it becomes increasingly important, so let's take a moment and discuss what comfort means when it comes to air mattresses.
Chambers, weight distribution and comfort
When it comes to comfort, it all comes down to how well your weight is distributed across the sleeping surface – and chambered designed a much better job at that than any other internal structure.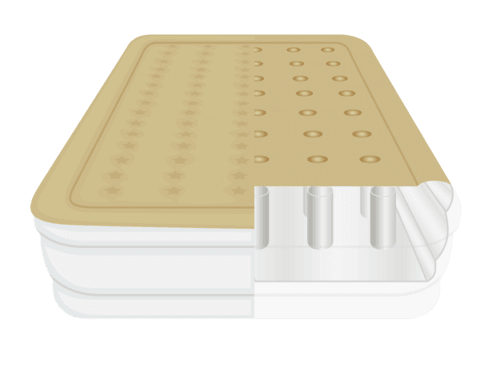 Most of the time, the choice will come down to beams (air columns that run side to side) and the mentioned chambers.
Chambers pretty much act as a spring in a regular mattress, making the bed more comfortable and reducing the stress the seams suffer, making the bed most durable.
Go for 30+ chambers.
Thinking size and height
Air mattresses come in all the same sizes as your regular mattress and the size issue is pretty self-explanatory and comes down to what your space can accommodate but, thinking from a prepper's perspective, twin size is the sweet spot.
Here's why…
Twin size airbed comfortably sleeps two people. If you go a size up to a full, queen or king size and you still have a bed that can still only comfortably sleep two people but takes much more space.
You can also pick between a low rise and high-rise air mattress.
To sum it up – specifics of your scenario might change but generally, if you are looking for an air mattress for your shelter, a twin-sized chambered designed air mattress made of extra-durable PVC will cover most scenarios.
Thinking quality
An airbed is not something you can save a lot on and even if it was, you shouldn't.
I guess you could say that about every item in your preparedness plan but it goes double for an air mattress since it is much more fragile and the difference between a high and low-quality airbed and a high and low-quality flashlight will be much more noticeable.
So, for your shelter, stick with the best brands and products that have stood the test of time.
How can you tell?
Look for low long the air mattress has been around
If you have set your eyes on a particular model, take your time researching it, looking it up on e-commerce sites and see how far back the users reviews go. Read the reviews of the air mattress and what people are sharing about it…its ability to hold air, the comfort, the reliability of the pump, etc.
Look for any changes in quality that might not be evident at first glance (know how to read air mattress reviews)
With the shady outsourcing practices and tenacious attempts of the companies to cut cost, it has never been more important to be an educated buyer.
Here's a good tactic to spot any patterns of quality change – when you ticked all the quality and feature boxes, you still haven't confirmed if the blow-up beds merit the ratings you are seeing today.
So, sort the reviews and read them starting from the more recent ones – these will be most relevant and will give you the best idea about the current quality of the air mattress.
Any change in quality will be reflected here.
Bottom line
A well-rounded survival plan cannot ignore sleeping preparations anyway you look at it.
What good is an expensive blade if the hand wielding it is shaking?
In Dirt Farmer Wisdom, Jo Jo Jansen says, "Without enough sleep, we all become tall two-year-olds" and he's right on the money.
Protecting what you cherish and love calls for you to be your best self. Good sleep is an important piece of that puzzle.
Stay smart about staying safe.
Linked from: http://homesteadandprepper.com/sleep-and-survival-smart-preppers-guide-to-choosing-the-best-portable-bed/